Welcome to
Meddy Gerville
Official Website
Pianist, singer, performer, author, composer, arranger, sound technician, producer.
Biographie
Biography
Meddy Gerville was born in 1974 in St-Pierre, Réunion Island, Meddy Gerville's first album called "Reunion Island" was recorded in 1997. It featured some prestigious artists from Paris : Louis Winsberg, Nicolas Folmer, Philippe Sellam and various local Reunionese musicians.
In 2000 Meddy Gerville was awarded "The Pian'Austral Award" for the best pianist in the Indian Ocean ( the acclaimed Alain Jean-Marie was one of the judges). Following that, Meddy released his second album "Jazz'Oya" with guest musicians from Paris and Reunion : Olivier Louvel (The Barbès National Orchestra), Stéphane Guillaume, (Didier Lockwood and Stéphane Huchard, The National Orchestra of Jazz), Linley Marthe (Joe Zawinul).
Show more
In 2003 Meddy released his third album titled "Sobat' ek Lamour" (Fight with Love "Not with War"), with artists he previously worked with: Nicolas Folmer, Stéphane Guillaume, Daniel Zimmermann, Olivier Louvel, Louis Winsberg as well as Fabrice Legros.
2006 was a major turning point for this Reunionese pianist. Simultaneously working on two albums; the first was "Jazz Amwin" (Tease Me with Jazz), a fusion of Jazz and Maloya which included collaborations from bassist Dominique Di-Piazza, drummer Horacio "El Negro" Hernandez and guitarist Jean-Marie Ecay. The second album focused on a popular local genre which is Sega/Maloya, titled "Ti pa ti pa n'alé" (Step by Step [we are Going to Save Our Culture]) with guest artist Danyèl Waro and various Reunionese musicians from local bands. Both albums were released simultaneously.
Between 2006 and 2008, Meddy Gerville increased his collaborations, working with Pierre Bertrand's Paris Jazz Big Band, Marc Berthoumieux's and Nicolas Folmer. He also had the opportunity to perform on stage with the American bassist Matthew Garrison. Meddy's sixth album was released in May 2008, titled "Fo kronm la vi" (Enjoy Life) which featured a mix of Maloya Jazz. The highlight of this album was the inclusion of Michel Alibo an expert and mind blowing bassist originated from Martinique.
In 2010, Meddy performed on the mythical Parisian stage of the Olympia during the "Carib'in Jazz Festival 2010". He returned to the Olympia in 2013, sharing the stage with Dominique Barret, a music star from Reunion island. Meddy toured many different countries. In 2010, he performed in Shanghai and Beijing. Returning China in 2012, he performed at various festivals and other music venues throughout China.
In 2011, Meddy released his seventh album titled "7ème Ciel" (7th Heaven). The album was highly requested and aired all local radio stations, including the music video which was played on all local music television stations. He was also presented with the "Voices of the Indian Ocean" Award in July 2011. He then released a second single titled "Mon Abri" (My Home), featuring singer Tom Frager and Lady Melody as guest artists. This also, was also a huge success. This marked the first time Meddy Gerville being broadcasted on major regional radio stations throughout France. The song was the third most downloaded, reported in the "Francophonie Diffusion" in September 2012 just behind Salif Keita and DJ David Guetta!
Between 2012 and 2014, Meddy Gerville continued to perform on a multitude of stages around the world. In 2015, he released his eighth album titled "Ek out Lamour" (With Your Love) in the Séga/Maloya genre. Then " Tropical Rain" was born in 2017, the album delivered the soulful and sultry music typical of Meddy Gerville. The basic formation of this opus featured Giovanni Hidalgo on percussion, Lionel Louéké on guitar, impressive Michel Alibo on bass and Emmanuel Félicité on drums. Additional guest musicians included : the great trumpet player Randy Brecker, the bandoline virtuoso Hamilton De Hollanda, guitar genius Nguyen Le, percussionist Stéphane Edouard, the captivating voice of Myra Maud, great accordionist Marc Berthoumieux, impressive drummer Damien Schmitt, outstanding bassist Dominique DiPiazza, exceptional Karim Ziad, Bernard Joron, Olivier Araste (Lindigo), Fabrice Legros, young bassist Teddy Sorres, flutist Christophe Zoogonès and guitarist Thomas Manerouck


2020. After three years of silence. Meddy is back with his 10th album through which he celebrates maloya; this celebration is expressed in Maloya jazz, musical genre for which he is one of the initiators. His 10th album is titled : « Mon maloya » ( My maloya), a way for the artist to again affirm his view of a modern and evolutive maloya. Maloya remains the roots to which the artist adds jazz and contemporary music with prowess. « Mon Maloya » is definitely shaped at the image of the People of Reunion Island born from the encounter of different cultural universes. A music born of mixing, a creole musique. Performed in trio, once again appears Michel Alibo on bass and double bass, Emmanuel Félicité on drums. Guests are Johan Sartaave (bass), Eric Longsworth (cello) et Olivier Araste from Lindigo (voice).
An opus which is a call to dive into the soft and at the same time rich and strong, seductive jazz'Oya of this leading artist of Reunionese music
Show Less
Albums & Shop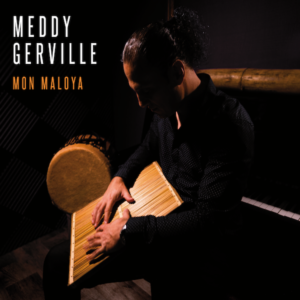 Artist

Meddy Gerville

Released

2020

Genre

World Jazz
Events 
Upcoming Events, concerts, meeting etc…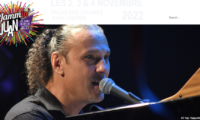 Antibes Juan
3 November 2022 @ 21 h 00 min – @ 22 h 30 min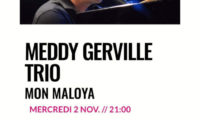 PARIS
2 November 2022 @ 21 h 00 min – @ 23 h 55 min
Cilaos
14 October 2022 @ 19 h 00 min – @ 21 h 00 min
Etang-salé
27 August 2022 @ 20 h 00 min – @ 22 h 00 min
Grenoble
5 October 2021 @ 20 h 00 min
Paris
15 April 2021 @ 19 h 00 min – @ 21 h 00 min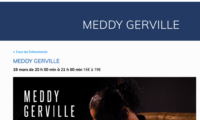 Saint-Leu
19 March 2021 @ 20 h 00 min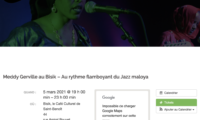 Saint-Benoît
5 March 2021 @ 19 h 00 min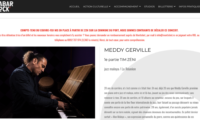 Le Port
28 February 2021 @ 17 h 00 min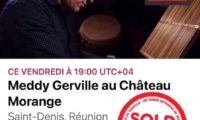 Saint-Denis
19 February 2021 @ 19 h 00 min